September 9, 2020
With every provider scrambling to provide socially distanced medical care since the onset of the COVID-19 pandemic, telemedicine visits are starting to become available for just about every condition out there. But are they just a band-aid fix or providing the level of care they need to be providing? With many of us already in information overload, adding on the need to sort through all the telehealth platform options that's right for the whole family, can intensify feelings of stress. But whether they're a high-risk individual, don't have someone to watch their kids during an appointment, or are responsibly practicing social distancing, more people are relying on telemedicine.
As of March 2020, 60 percent of people surveyed said they already had more than one telehealth visit. Another 2020 research report predicts a 64.3 percent rise in demand for telehealth services this year with an expected five-year compound annual growth rate of 38.2 percent.
This colossal growth in demand calls for both cutting edge technology and up-to-the-minute adjustments in telehealth platforms, to improve outcomes for all types of consumers using these services. But sadly, some telemedicine providers are falling short of enhancing their platforms. According to a recent survey by research firm KLAS, "While healthcare organizations have found stopgaps in many areas, few have successfully implemented permanent solutions that serve a long-term strategy."
New standards are necessary to resolve existing issues with current systems. There is also a need to streamline the patient experience for those who are most likely to encounter challenges when accessing virtual health services.
Meeting The Need For A Woman-Centered Approach To Telemedicine Care
Why design a telemedicine platform with women in mind? In addition to working and taking care of their families' needs, women are busy making 89 percent of household spending decisions. These responsibilities include decisions about what to spend on health and wellness. With so much on their plates, women need a telehealth service they can trust to support them in making choices impacting theirs and their loved one's health. By offering a patient-centric platform that intuitively adjusts to our population's changing needs, Greenfield Groves is delivering unsurpassed quality of care in an all-inclusive solution for busy women everywhere.
Top-rated telemedicine companies offer a wide range of services, including:
Specialty medicine
Wellness and preventative care
Urgent care
Psychiatric services
Talk therapy
Chatbots
Text messaging with doctors
Health assessment tools
Second opinions
Mobile apps
Nutritionists
Lactation consulting services
"Favorite" doctors for continuity of care
Prescriptions and refills
Lab orders
24/7 support
Services covered by insurance and self-pay options
While these platforms' features are impressive, there are still several voids in their intrinsic structure – starting with the need for a platform designed for women. As more choices become available, it makes sense that women are looking for complete transparency in the information they need to rationalize purchases. Unlike current telemedicine systems, our platform is sensitive to women's concerns, anticipates change, and adapts to their needs. These benchmarks make it the highest quality, long-term solution for women and their families
Our company, Greenfield Groves is offering a comprehensive solution in a single platform that addresses worries weighing heavily on women's minds like their need for: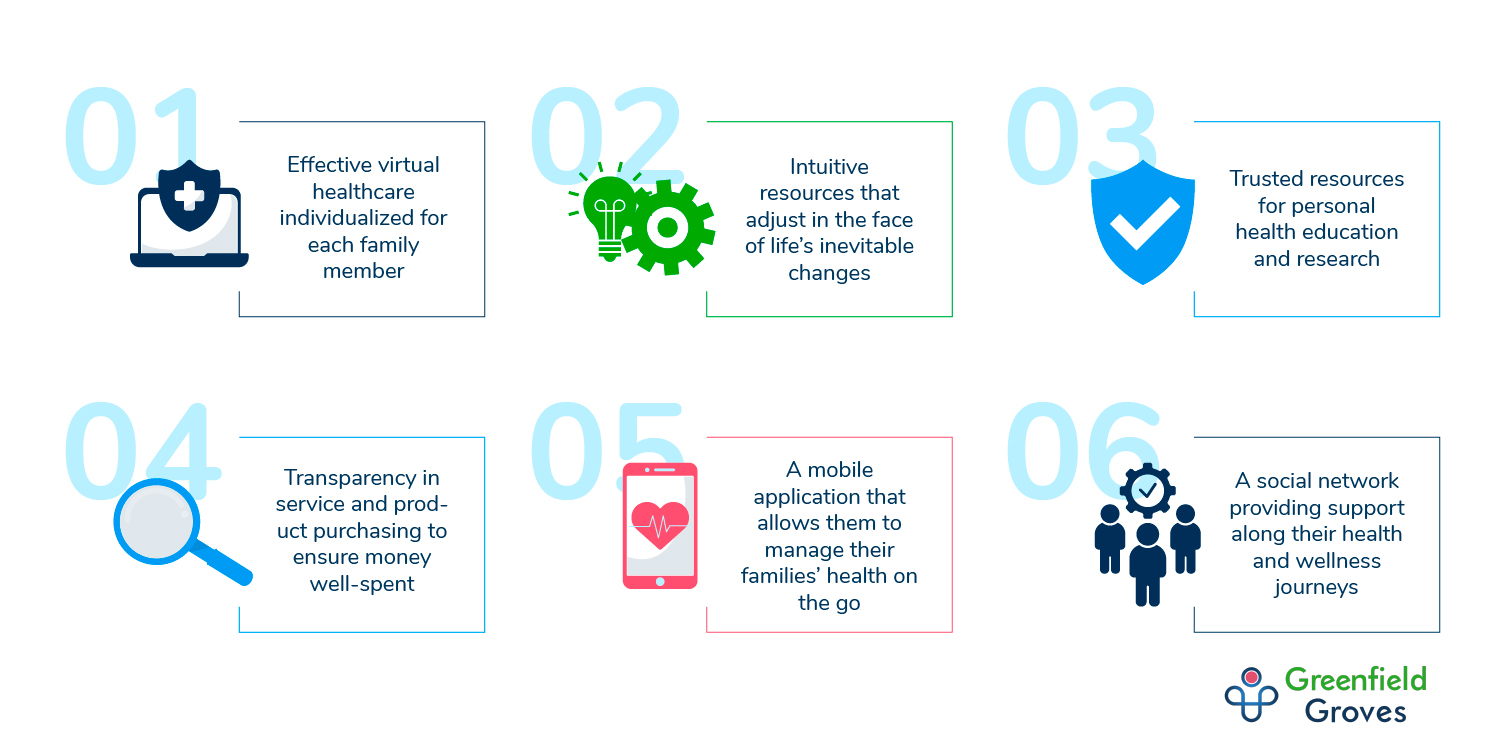 Effective virtual healthcare individualized for each family member
Intuitive resources that adjust in the face of life's inevitable changes
Trusted resources for personal health education and research
Transparency in service and product purchasing to ensure money well-spent
A mobile application that allows them to manage their families' health on the go
A social network providing support along their health and wellness journeys
A telehealth system based on these practical applications offers the ultimate support to patients. Additionally, it decreases patients' risk of falling through the cracks which potentially puts their health at risk.
Removing The Risks Current Telehealth Visits Pose
After a thorough analysis of the current top-rated telemedicine companies, healthcare executives are identifying gaps in the choices currently on the market. The use of cutting-edge technology bridges these gaps by offering dynamic solutions setting the bar for telemedicine's new standards and elevating care to ensure a safer healthcare experience.
Where Other Telehealth Platforms are Falling Short
1. Lack of Education
Many companies send a how-to document and consider their education complete. However, if there is frustration to even use the platform to attend the telehealth appointment, this serves as a roadblock to services. As the pandemic continues and telehealth is fastly becoming the norm, it is worrisome that many will not be able to access the care they need in a timely manner.
Our difference:
Greenfield Groves offers a fun, easy-to-use platform for accessing providers and learning about wellness. Removing the frustration factor means even the least tech-savvy patient won't miss out on this convenient way of getting the care they need and deserve.
2. Lack of Services
Many healthcare companies report some improvement of the stopgap measures used early on in the pandemic but are still playing catch-up when it comes to getting telehealth systems up to par. They are also missing the opportunity to leverage telemedicine to support wellness on many other levels.
Our difference:
As an emerging thought-leader, we offer a comprehensive, all-inclusive approach that addresses multiple oversights and provides solutions to issues other companies have yet to consider. From simple antibiotics to hospital care follow-ups and even luxurious self-care, Greenfield Groves not only provides services – it offers wellness products painstakingly crafted to exceed consumers' expectations.
3. Lack of Current and Reliable Resources
People need so much more than just a telehealth visit these days! As we become even more attached to their devices and the pandemic evolves, the number of people searching for accurate health information online is rising. By not offering dependable resources, the current array of telemedicine providers are indirectly adding to the frustration people feel when facing information overload and confusion about what to believe.
Our difference:
We deliver reliable, personalized health information, targeting specific problems to support people in making the best-informed health decisions possible. Not having to waste hours researching conditions alleviates stress and allows patients to be more proactive in their health.
4. Lack of Follow-Up and Accountability
Today, 33 percent of people say they canceled a doctor's appointment because of COVID-19 and 97 percent say they will reschedule once the risk diminishes. These missed or delayed appointments may end-up causing serious health issues that are preventable.
Our difference:
Convenient scheduling means no excuses for missing appointments or follow-ups that could compromise one's health. Our automation tools allow users to engage with the program before and after visits, creating advanced accountability levels.
5. Lack of Connectivity with Third-Party Technology and Cross-Market Integrations
Even the best-rated telehealth technologies are not set up to connect to popular third-party health and wellness apps.
Our solution:
Being able to share health data you are already tracking on your Apple Watch or Fitbit with the Greenfield Groves' platform, will provide valuable insights benefitting both the patient and the physician. This connectivity also delivers exciting consumer engagement features like leaderboards and stat comparisons to inspire the one in five Americans who enjoy goal-setting and receiving extra motivation.
6. Lack of a Human Touch
The lack of personal engagement that comes with existing telemedicine visits can make critical health conversations less impactful than they should be.
Our difference:
Greenfield Groves is "rehumanizing telehealth care." Using our advanced technology to build a personalized health profile empowers people to become more active participants in their wellness journey. Nurturing this core mission even further, we include opportunities for social connection, advocacy, and community within the platform. And our favorite providers' feature allows a patient to schedule visits with a physician of their choosing, fostering the patient-doctor relationship over time and continued interactions.
Treating the Whole Person With Telemedicine
Greenfield Groves' remarkable telemedicine service takes rehumanizing telehealth care even further. A telemedicine appointment needs to consist of more than just checking off symptoms and being given a prescription. Our platform solves this issue by connecting users with traditional medicine, holistic practitioners, and other health and wellness providers to meet all their families' health and wellness needs.
Continuing our commitment to exceeding expectations at the individual level, we leverage artificial intelligence across our platform. This feature qualifies possible practitioners and matches users with those who meet their personal criteria. By doing so, our technology rescues people from spending hours researching the right provider, leaving them more time to focus on other things that matter. As users' health needs change over their lifetime, intuitive data points allow for continuous support, delivering relevant information about concerns as they unfold.
Finally, our all-inclusive platform offers one more thing no other platform does. It ties into our meticulously developed personal wellness care product line. Using our services provides data that allows us to recommend self-care products to meet users' distinct needs. Our exceptional products consisting of organically derived ingredients are beyond comparison. Using these science-backed products delivers results people can see and feel, surpassing the benefits of clean personal care products currently on the market.
A Wellness Technology Revolution
Triumphing over current telemedicine offerings, Greenfield Groves, and founder Lindsay Giguiere, are positioning the company to be a market leader for telemedicine, wellness services, and personal care products. By filling in gaps where other providers fall short, incorporating revolutionary technology, and meeting boundless consumer needs, all while remaining environmentally committed, we are providing an unprecedented telehealth, telemedicine and whole-body experience that evolves with the user.
Hope You Enjoyed the Read!