September 23, 2020
The current global wellness economy is a booming one; it's estimated to be currently valued at
$4.5 Trillion
, and that number will continue to grow as consumer health trends shift and take on larger roles within peoples' lives. Why though, for as large and far-reaching as this industry is, does there seem to be a lack of education and understanding when it comes to actually integrating healthy practices into our lives? Perhaps it's the sheer magnitude of the consumer health & wellness industry that makes it more difficult to pinpoint the areas in which consumers do need self-care direction; if there's a never-ending list of healthy foods, products, and practices you should implement into your life to make it a healthier one, where do you even start? Looking at consumer health trends through lenses that focus on specific needs for the body and mind sheds light on where best health practices are lacking and gives us the opportunity to offer women and their loved ones the correct tools and education for long-term health. Here's how we, at Greenfield Groves, assess and break down the most crucial sectors and their pitfalls in health needs today.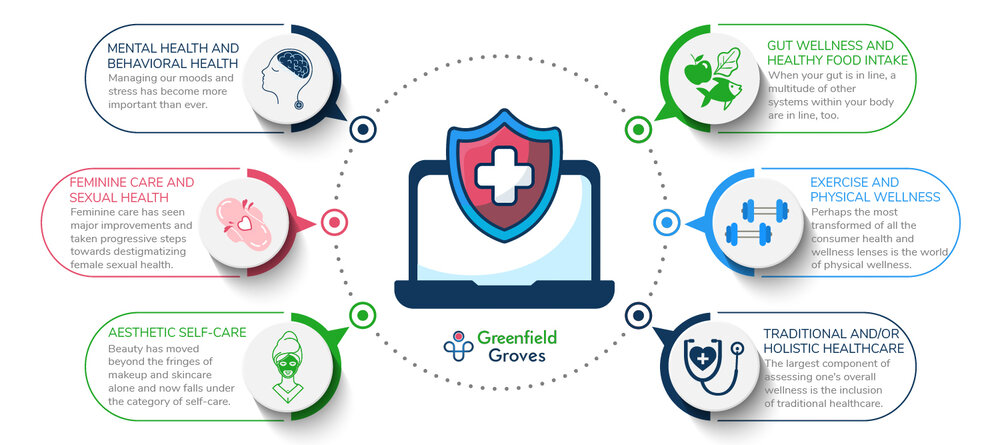 Mental Wellness and Behavioral Health
This sector captures a large swath of health issues that are in need of being addressed. While mental health has always been extremely important, managing our moods and stress has become more important than ever in light of all the difficult changes our world has recently faced. Whether it's diagnosed disorders like anxiety or depression that call for the attention of licensed medical physicians or if it's an issue as simple as reducing daily stress, the mental wellness spectrum is a wide one. Greenfield Groves is using the latest in telehealth technology to become a readily available resource for dealing with mental wellness and behavioral health, and has long-term plans to provide everything from access to prescription drugs to alternative, naturopathic remedies, to exercise third-party applications so consumers are able to address mental health concerns from both traditional and holistic angles. According to the
Kaiser Family Foundation
,"
57 percent
of adults (women more likely than men) were likely to say COVID-19 had negatively affected their mental health."
Gut Wellness and Healthy Food Intake
When your gut is in line, a multitude of other systems within your body are in line, too. It's widely known that the gut is considered the "second brain" because it's responsible for so many crucial functions that keep the body operating in optimal form. Though gut health is important for all, according to the
American Journal of Reproductive Immunology
it's especially important for women as it's closely linked to feminine and reproductive health. Companies have noticed the increased focus on gut health within the wellness industry and have responded with supplements and health plans that address the microbiome. But how do you know which products are right for you? How do you know if the quality is in line with the expectations for wellness? Similarly, food and nutrition have taken on a new kind of identity within the consumer health and wellness industry. Rather than marketing unhealthy diet regiments and foods that aren't necessarily high in nutritional value, but may help you shed some weight, the industry has shifted to focus on organic, whole foods that nourish the body and are grown or produced from sustainably responsible sources. There's been a huge rise in the popularity of farmers' markets, CSA's, and companies that provide locally grown foods or healthy meal plan options directly to your door. Creating access to healthy, wholesome foods has become an extremely vital component of the health and wellness industries, most especially because food insecurity and lack of access to nutritional food is on the rise.
Feminine Care and Sexual Health
From sustainable menstrual cycle options to major achievements in reproductive technology, the feminine care and sexual health space have made huge strides across the last five years. Apps that track your cycle, egg freezing, and "period underwear" are just a few of the ways feminine care has seen major improvements and taken progressive steps towards destigmatizing female sexual health. As girls, you're taught to keep female concerns private and concealed, but this new inclusive movement deems feminine care and sexual health as something to celebrate and be proud of. Thus, it's made way for a new generation of companies, such as
Hers
and
Unbound
that can provide customized feminine care to a wide spectrum of consumers.
Exercise and Physical Wellness
Perhaps the most transformed of all the consumer health and wellness lenses is the world of physical wellness. Nowadays, exercise and physical wellness is not so much a means of self-care or to stay in shape as much as it is an entire lifestyle. Technology, again, plays a big role within this lens. We can track our basic health and the amount we exercise through our phones, watches and even
smart apparel.
We can follow our favorite wellness and fitness coaches through social media platforms. Even exercise equipment now comes equipped with screens that can monitor your physical progression over time. Companies like
Peloton
and
Mirror
home gym have revolutionized how and when we can work out, and smarter health apps, as well as virtual health coaching, have both advanced and gained new levels of popularity within the wellness space. Additionally, the rise of "performance" health as it pertains to focus and clarity has become a hot-button trend for consumers, for better or worse.
Nootropic supplements
have created an entirely new industry of their own, adding fuel to the "hustle culture" fire and promising a productive, balanced focus and an alternative to prescription drugs that aid in easing distraction.
Aesthetic Self-Care
The final section consideration we see as a major component within self-care and consumer health and wellness trends is in beauty and aesthetics. Right now, the beauty industry has been estimated to be valued at
$532 billion
, and that number shows no signs of slowing. This is in part because what's been defined as beauty has greatly expanded across the years. Beauty has moved beyond the fringes of makeup and skincare alone and now falls under the category of self-care which encompasses a more holistic and total approach to caring for ourselves. Body care, hair care, and even beauty that starts from within (think collagen powder and supplements like
Vegamour
) have redefined traditional avenues of the beauty industry. Clean beauty is the latest development within the self-care industry, with consumers looking to makeup, skincare, and hair care options that are free of harsh chemicals, typically plant-based and ethically and sustainably produced. As holistic approaches to health and wellness become the norm, all of the consumer health industries have slowly started to shift their offerings into more natural and plant-based territories.
Traditional and/or Holistic Healthcare
And most importantly, the largest component of assessing one's overall wellness is the inclusion of traditional healthcare. This means something different to everyone. Some prefer doctors in white coats and western medicine pharmaceutical prescriptions while others air on the side of eastern medicine and the more holistic approach to healing. Then there are those who are a blend of the two. No matter your approach to treatments, regular annual exams, working towards the healing of, or maintenance of any physical or mental health issues is an important part of one's overall well-being. According to
Cigna
, "Annual check-ups are critical to our personal health. They provide us with an opportunity to check on our most important health numbers such as Body Mass Index (BMI), cholesterol and blood pressure, allowing us to gauge our overall well-being," said Isaac Martinez, M.D., utilization management medical director at Cigna. "However, many Americans forget they need an annual check-up and many of those who know, don't go. That's why we want people to 'know, go, and take control' when it comes to their health. The U.S. Centers for Disease Control and Prevention (CDC) reports that Americans use preventive services at only about half the recommended rate, despite insurance covering 100 percent of these costs."
Why it Matters
Caring for our physical and mental wellbeing is more important now than it has ever been. The need for reliable tools that will guide us on our own individual health journeys are not only conduits to a more fulfilled and healthier life but are now crucial as we face such unpredictable circumstances. Understanding these lenses and categorized sections of need and in turn, providing unparalleled care, solutions via the latest in technology, and education to aid in benefitting our collective mental and physical wellness will continue to be the top priority of companies as we grapple with a new normal. What we at Greenfield Groves found was that there really wasn't one comprehensive solution for women to easily access and understand their health and wellness needs and solutions. The global wellness industry is overwhelming and with our traditional and holistic telehealth and telemedicine platform, alongside only the highest quality consumer products and intuitive technologies, we will change what well-being actually is for the world.
Hope You Enjoyed the Read!