January 17, 2020
The "natural" product bandwagon is pretty full these days, but does everyone really belong there? We've seen buzz words like natural, organic, clean, transparency, efficacy, and sustainability when it comes to beauty, food, medicinal, and even fashion products. Do consumers truly understand what these all mean and more importantly, do brands understand what these mean?
There's a reason why this new "natural" way of sustainable manufacturing and marketing of products is answering the popularity of eco-friendly consumers. The world is lacking a bit of trust these days and now, more than ever, these consumers expect transparency.
At the forefront of the healthy lifestyle products industry, New Hope Network states that consumers have expectations for "Healthy for Me & Healthy for We". Brands are now sharing what was once considered 'behind-the-scenes' information about their operational footprints and clean beauty, transparency, and premier ingredients are becoming the new norm.
What Are the Rules?
The rules are there aren't any. Unfortunately, anyone can call a product "natural" or "clean" and define that term any way they want, says Vox. This is why it's imperative for a brand to employ a vertical supply chain in order to gain that transparency customers are so desperately lacking.
If we look at the history of beauty products, there hasn't been much guidance from the government when it comes to consumer protection. It took 81 years for The Federal Food, Drug, and Cosmetic Act of 1938, to be amended with the addition of the Cosmetic Safety Enhancement Act of 2019. It was a great start for holding companies accountable for what they put in their products, however, consumers are still left with labels that aren't honest.
The "clean beauty movement" continues to grow and everyone wants to be a part of it. Originally referred to as a fresh-faced, no-makeup look from the 1970s with CoverGirl's "Clean Make-up" campaign, the phrase has taken on new meaning since then and everyone seems to have created their own.
So What Does It All Mean?
As a consumer, it's very difficult to know what's real and what's not because everyone seems to have varying definitions. Products that contain plant-based ingredients are referred to as "natural", however, "there's a push by some new brands to move away from the word natural because there are many safe synthetic ingredients."
According to Sustainable Jungle, natural ingredients must come from plants, flowers, and mineral origins found in nature. Natural doesn't mean without agricultural chemicals and herbicides. However, organic beauty is about using products that are made from high quality, organically farmed ingredients that can't contain chemicals, pesticides, or artificial fertilizers.
Products labeled as "clean" are typically free of parabens, phthalates, and sulfates. Wellness and lifestyle brand, Goop, founded by actress Gwyneth Paltrow, defines "clean beauty" as products made without ingredients shown or suspected to harm human health.
This can all be extremely confusing to consumers. Who do you trust? Who's being honest? What are you really exposing your body to?
Clean beauty is about brands being 100% clear and honest to customers in their choices of ingredients and ethics. Is this always the case? No. While some say the movement is a marketing scheme, Richard Gersten, a partner at a private equity firm in New York that invests in luxury beauty brands says "These days if your products or your ingredients are not perceived as clean and safe, it will be harder and harder to get traction. Clean has become the price of admission."
People are paying this admission price as the business of clean beauty, part of the broader commercial wellness movement is projected to generate nearly $22 billion globally in 2024, from $11 billion in 2016.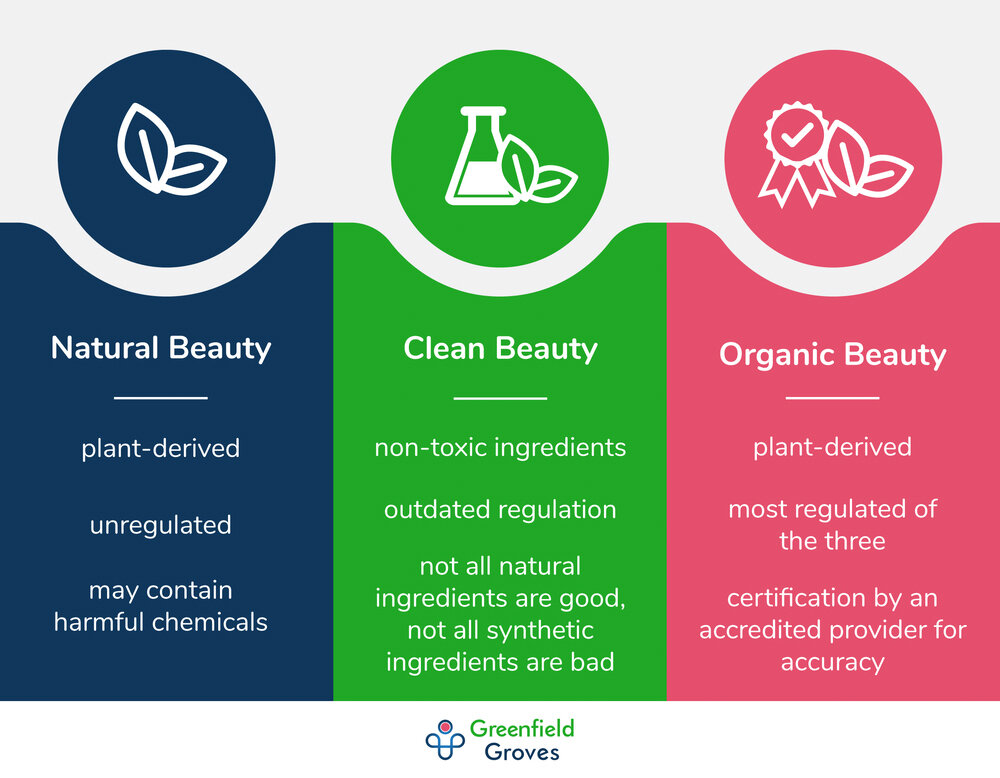 Are All Solutions Equal?
Many brands have been attempting to answer the clean beauty trend calls, but are falling short. When a company can source their own ingredients, bring their consumers to an actual place, and refer to actual studies, it's the real deal. This applies to both coined terms "farm-to-table" and "farm-to-face".
The research doesn't lie and we should expect to see "greater crossover between cosmetics, agriculture, and biotechnology as beauty brands seek to produce more nutrient-rich products."
From food to beauty products, plant-based ingredients have taken the consumer product goods world by storm. CBInsights.com writes about the 15 trends in 2020 that are changing the face of the beauty industry, "As the line between food and beauty products thins, expect to see beauty brands partner more closely with farmers for ingredient sourcing." It's not enough to simply source these plant-based ingredients; vertical integration is a must for a focus on true sustainability and success.
Several companies continue to be "natural" role models to other brands and provide consumers with the transparency they crave. While some may hit bumps in the road, it's an ever-evolving learning process with a constant potential for growth.
Tata Harper, considered an entry point into natural beauty by industry pros, has a focus on sustainability and transparency in the skincare industry, sourcing their ingredients from their farm in Vermont.
It is imperative we demand consumer product transparency and efficacy and that goes beyond a celebrity name. The Honest Company, founded by Jessica Alba has achieved great success, along with multiple lawsuits claiming mislabeled ingredient lists. While no company is without faults, The Honest Company wasn't so honest and lost focus on quality control, alienating part of their audience that was concerned with safety and eco-friendliness. 
At Beautycounter.com, the multi-level marketing company that sells skincare and cosmetic products, are the creators of " The Never List", offering consumers a simple promise that shoppers can understand and to which the brand holds itself accountable, according to Forbes.com.
It's going to take a lot more than telling consumers what isn't present in your products. Our company, Greenfield Groves is meeting the needs of all. We've developed a platform that provides a comprehensive solution to enhance lifestyle, solving problems the modern-day woman faces to provide optimal wellness. We are reimagining consumer-centric health and wellness from the ground up by creating high-quality, highly efficacious clean products throughout the entire home and reshaping the way consumers are educated. We have a vertical, sustainable supply chain and company-operated agribusiness, directly sourcing exceptionally grown premium ingredients. This is what clean beauty was meant to be – clean from the very start and transparent throughout, all the way to the shelf and beyond.
The Power of Product Integrity
The concerns over health and wellness in this country have only increased due to COVID-19. Even before the pandemic in 2018, The Global Wellness Summit named "feminist wellness" an important-to-watch market opportunity, as women everywhere find themselves affected by the fast pace of modern life and all its expectations.
Our impressive portfolio of brands are creating and distributing the power of health and wellness, especially through our Herban Goods brand. Herban Goods' science-backed series of product collections incorporate organically grown adaptogens and the hemp-derived cannabinoids CBD, CBG, and CBN, along with other therapeutic botanicals as catalyst ingredients across a series of collections across the home including Nutrition and Wellness, Therapeutic and Self-care, and Beauty and Personal Care.
Our Founder, Lindsay Giguiere, has created products that are clean, nature made, holistic, and sustainable along with providing the education of the science behind them.
"We are able to empower consumers to make informed decisions on their well-being. We understand that each consumer has a choice when it comes to the products they use on themselves and throughout their home, it is my passion to create trusted products that are easily accessible, affordable and that actually work, and by creating Greenfield Groves brands, we've accomplished that and so much more."
Hope You Enjoyed the Read!